Advanced Auto Fabrication, LLC officially opened its doors in March 2010. Although it has only been opened since 2010, the AAF team has been building and developing high performance street cars and racecars for many years.
Advanced Auto Fabrication, LLC believes that honesty, fair pricing, and keeping up with the latest tools and technology are the keys to success in this business.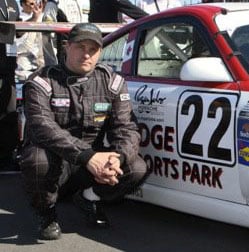 Well over sixteen years of professional experience working on all makes and models of automobiles. Focusing on suspension set-up and alignments for the last seven years.
Active in auto racing for 16 years winning season championship in 2001 on the circle track. In 2004 he won the autocross championship in FSP. 2008 brought him his first endurance win at the 12 hour ICSCC Race in Portland, OR.
Joshua Wolkersdorfer, Tech

Josh is currently living in Coeur d'Alene ID, and was born and raised in the Pacific Northwest.
He has been with AAF in the high performance racing industry for 4 years. Josh, with his Associate's of Arts and Sciences degree in Mechanical Engineering Technology, brings experience in solid modeling, computer aided drafting, and fabrication design to the table. Josh has also taken on several responsibilities of a race engineer, with hands on experience at races performing data acquisition and analysis.
While Josh enjoys being behind the wheel, his true skill set exists behind the scenes in a technical field. From a young age he has been passionate about concept design and creation. The automotive motorsport industry brings that to life in a thrilling way. Even on Josh's days off he can be found hard at work in a pit crew changing tires at 4am, hour 16 of a 25 hour endurance race.
Sam has taken on the roll of bookkeeper for the business. She is often on the radio when Hank is racing, and keeps organization at the track.