AAF E46 M54 Oil Pan Baffle
AAF E46 M54 Oil Pan Baffle
54 in stock ready to ship
AAF E46 M54 Oil Pan Baffle
.  Baffling the oil pan is extremely important. AAF M54 E46 Oil Pan Baffle. Under racing and track conditions, oil can move in the oil pan enough to cause extended moments of oil starvation. This can cause premature, and in some cases immediate, engine failure. This baffle keeps the oil at the pick up better than others on the market. This pan features a tight fit with an extra tab on the front to keep oil from exiting under braking. Six gated holes control oil slosh in the sump.
A must have for all track cars.
Features and Benefits
Track-proven to prevent oil starvation
Directional trap door baffling completely that closes off the oil pump pickup for maximum protection against oil starvation during turning or acceleration
Baffle plate with drain-back slots help accelerate return of oil to the bottom of the sump while also preventing oil slosh and reducing oil consumption
Reduces the risk of oil starvation when oil levels are low
Works with the factory cast aluminum oil pan, which is considered a structural member of the engine block and is less prone to failure or leaking than aftermarket sheet metal pans
Light-weight aluminum construction
Made In the USA
!!!Weld in installation!!!
Get this in a bundle
Minor fitting may be required on some pans as not all cast oil pans are the same!!!
Installation is available, ship your pan or your car $350-400!  Call us for info 509-924-7006
Follow us on Facebook or Instagram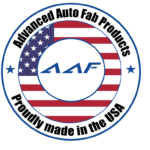 AAF E46 M54 Oil Pan Baffle