AAF N54 135i/335i Oil Pan Baffle
AAF N54 135i/335i Oil Pan Baffle
33 in stock ready to ship
N54 135i/335i Oil Pan Baffle
When driving on the track it is ALWAYS important to keep watch of your oil pressure. The N54 Oil Pan baffle assures that your E90/E92 335i, OR 135i M1 receives oil to the oil pick-up when in harsh prolonged conditions. It's a cheap way to assure your engine doesn't starve of oil. While oil starvation is not as common as it once was, It's still important to assure you have oil instead of fumes, which will completely ruin the service life of your engine.
!!!Weld in installation!!!
A new oil pan gasket is required!
Fitments:
E82 / E88 (08-13) > 135i
E82 / E88 (08-13) > 135is
E82 / E88 (08-13) > 1M (11-12)
3 Series
E90 / E91 / E92 / E93 (06-13) > 335i
E90 / E91 / E92 / E93 (06-13) > 335is
Z Series
E89 Z4 (2009-2016) > Z4 sDrive35i
E89 Z4 (2009-2016) > Z4 sDrive35is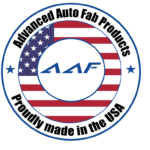 N54 135i/335i Oil Pan Baffle