AAF E46 6-speed M Transmission Crossmembe
AAF E46 6-speed M Transmission Crossmembe
9 in stock ready to ship
Often installed together:
The AAF E46 Transmission Crossmember/ Transmission Brace
Ideal for the SE46 racing series, the AAF E46 6-speed M Transmission Crossmember is a heavy-duty and worthwhile upgrade.
The OEM thin cast aluminum cross member has been known to fail in multiple different ways. Firstly, especially when using stiff engine and transmission mounts, the cross member can crack out and break around these mounting points. Secondly, the cross member can break from the high amounts of load transferred through the drive train. While chassis flex from hard cornering is being applied through the engine and transmission from the front cross member, this load is sent from the transmission back into the chassis at the transmission cross member. This is simply too much stress for the OEM cross member to hold up to under the extreme punishment of road racing.
While the OEM member ( 22312229198,22316769911 ) is made from less than 1/8″ thick cast aluminum at the transmission mount points. The AAF E46 Transmission Cross Member is completely constructed of 1/4″ thick heavy-duty aluminum plate. It is designed specifically to cope with hours of endurance racing.
Don't forget to pair this with our high-quality transmission mounts!
Our crossmembers were made to endure the pressures of racing while keeping you on track to Get To The Front 
SKU NO.116110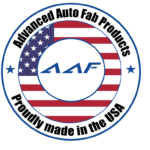 The AAF E46 Transmission Crossmember/ Transmission Brace